Booking Arrangements
We operate on advance reservations. Minimum age accepted is 18 years, unless accompanied by an adult. All prices are listed in U.S. Currency. *We accept personal check, cash, money orders or cashier checks.
Click here for a Printable Reservation Form (PDF)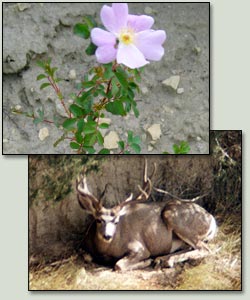 Rates for 2023: $140/night for up to three guests. $30/night for each additional guest. (3 night minimum stay required)
*All rates are subject to 5% North Dakota State Sales Tax*
Check In and Check Out: Check out is 11:00 A.M. MST and check in is 2:00 P.M. MST
Deposits: A deposit of 50% is required to reserve dates including number of people in party and number of nights lodging. Paid in full at the start of the stay.
Cancellation Policy: One-half of your deposit will be retained by Scenic Badlands Cabin.
Firearm Policy: Absolutely NO discharging of firearms at the cabin site or on the 160 acres the cabin is located without the permission of the owner.
Pet Policy: Pets are not allowed in the cabin. Pets may be kept outside on the property. All pets and liabilities associated with them are the owner's responsibility.
Indemnities: Each guest accepts any risk involved in recreating in the Badlands. Some risks include, but not limited to, weather, wildlife, terrain, and vegetation. We cannot guarantee your safety. You will be required to sign a waiver.
Additional Information: Contact Pat Lothspeich at: 7320 Keepsake Lane | Bismarck, ND 58501
Phone: (701) 290-0915 or E-Mail at: lothspeich81@msn.com
Click here for Maps & Directions